We are pleased to announce the release of Kamatana's first album 'Remember.' This album has been a long time in the making and features stunning obokano duets with soaring, catchy melodies. It features both traditional and newly composed songs by Dominic Nyauma Ogari and Samwel Ogari Osieko, and includes tracks with special guest performer Stephen Kent on animal horn and didjeridu. A portion of proceeds will go to S'Cool Sounds music program, a charity that provides music instruction to the children of Kibera Slum in Nairobi, Kenya
---
Kenya is a country that brings to mind vivid imagery of endless savanna, abundant wildlife, and classic safari culture. However, this East African country is home to exciting traditions that remain some of the best kept secrets in world music. One such tradition is the music of the obokano. [LEARN MORE]
---

Hailing from Los Angeles, Sukhavati explores the genres of New Age and Contemporary Instrumental music through the creation of new pieces for audiences of today. Utilizing the unique combination of 20-string harp guitar and handbells, the duo takes inspiration from some of the greatest artists of the genre, while also expressing their own original musical voice. Ayame's handbells evoke the sounds of the singing bowls of Tibet, the gamelan gongs of Indonesia and the church bells of Europe. Nick's harp guitar weaves a haunting spell; evoking the primal sounds of sea, sunset and serene nature
---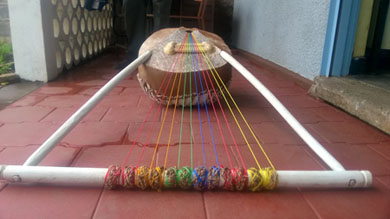 Kamatana would like to announce the creation of the rikano, the world's first 12 string obokano. It provides the player with more melodic and harmonic possibilities than the traditional obokano. Starting soon, the Rikano will be played at Third Street Promenade in Santa Monica.
It took many people to complete this project. Dominic Ogari would like to thank the following people for helping to create the rikano:
Samwel Osieko for helping to carve the resonator
Iha Pwicha for helping obtain material for the obokano arms
Patricia Tibin for providing wax to fix the reeds to the skin
Joel Orina for helping to smooth the resonator and arms and helping with photography
Bernard Arika for help with fixing the skin to the resonator
Finally, Dominic would like to thank the Chairman of the Department of Music and Dance at Kenyatta University for allowing the instrument to be assembled at the department grounds.